Our stills - Big Nell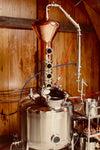 Big Nell is our 380 litre still.  She runs six heating elements and uses about 14.5 kilo watts of power when she is going hard.  
We can dress her in a number of outfits. She puts on her reflux tower when she is making vodka, but dresses up in copper, with her whiskey head, when she is making our single malt.
When she is working doing her stripping runs she enjoys a full day out, but when it gets serious, and she is making final product, she starts in the early hours of the morning and doesn't finish till well after midnight.
Leave a comment
Comments will be approved before showing up.